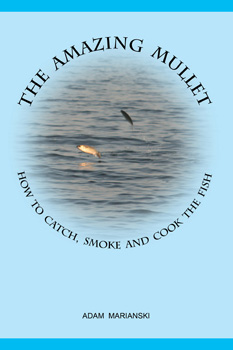 The Amazing Mullet offers information that has been gathered through time and experience. Successful methods of catching, smoking and cooking mullet are covered in great depth. One will learn the distinct characteristics that make mullet such an exceptional fish. Their biological and behavioral uniqueness is shown distinguishing them from other fish. Numerous filleting, cleaning, cooking and smoking practices are reviewed thoroughly. The makeup and functionality of a smoker is shown and the properties of different woods that can be used is explained as well. A cooking section explains the best methods for preparing fish and the recipe section, in addition to mullet recipes, includes detailed information on making fish cakes, ceviche, spreads and sauces.
Sheila Raj

Although the book is about mullet, it answers many questions that one may have about catching and cooking fish in general. The author gives detailed information about how to prepare this popular fish through text and illustration. The recipes are great, especially the large selection of smoked mullet spreads and ceviche.

Midwest Book Review (Oregon, WI USA)

Sometimes it's not just catching or eating the fish, it's the whole process that makes the endeavor worth doing. "The Amazing Mullet: How to Catch, Smoke, and Cook the Fish" is a guide to every step of the mullet fishing process. From successfully catching mullets more effectively, cleaning them, smoking and cooking the fish for those who want a healthier sort of fish. "The Amazing Mullet" is a fine read that is very much worth considering for any fisherman with a taste for this certain fish.