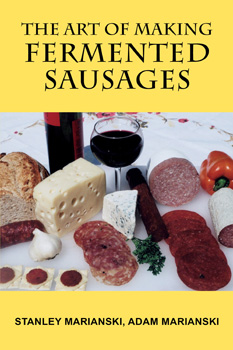 The majority of books written on making sausages do not tackle the subject of fermented sausages at all. The topic is limited to a statement that this is an advanced field of sausage making which is not recommended for an amateur sausage maker. Well, the main reason for writing this book was that the authors did not share this opinion. On the contrary, they believed that any hobbyist could make wonderful salami at home, if he only knew how.
Until recently, the manufacturing process was shrouded in secrecy, and was more a combination of art and magic than a solid science. They were highly technical papers, that were published in Food Technology journals, unfortunately these works were written in such difficult terms, that they were beyond the comprehension of the average sausage maker. Thus, was born the idea of bridging the technology gap that existed between Meat Science and the requirements of the typical hobbyist making products at home. Technical terms were substituted with their equivalent but simpler meanings, and to get the reader started fifty detailed recipes are included. With more information obtainable every day, and commercial starter cultures available to the public, there is little reason to abstain from making quality salamis at home, regardless of the climate and outside conditions.
In The Art of Making Fermented Sausages readers are provided with detailed information about how to:
Control meat acidity and removal of moisture.
Choose proper temperatures for fermenting smoking and drying.
Understand and control fermentation process.
Choose proper starter cultures and make traditional or fast-fermented products.
Choose proper equipment, and much more.
ISBN: 978-0-9824267-1-5, Format: 6 x 9, Paperback, SRP: US $19.95 - 272 pages, 2nd edition
F. Carmichael (Malden, MA United States)

The best source i've read for meat science. It pulls together all the other books that say pack meat and refrigerate for 48 Hrs. why? Thoughout the book certain aspects of meat safety are repeated so it becomes burned in your brain. Buy this before other sausage books.

R. Chartier "Excaliber" (San Diego CA)

Worth every penny. There are some technical books on making fermented meats but they cost ten times more. This book covers all there is to learn and is simply written. I have made regular sausages many times but I was always reluctant to try salamis. The main reason was a lack of information on the subject. This book has answered all my questions and gave me more confidence.

G. Hanna

Very easy to read and understand. One of the very best books in this subject. I bought all his books. Honestly he knows what he is talking about. Please visit his site to see what i mean.

The Midwest Book Review

There is both an art and a science to the making of fermented sausages. And both will be found within pages of Stanley and Adam Marianski's "The Art of Making Fermented Sausages", a 272-page compendium of illustrated, step-by-step instructions that will enable even the most novice culinary hobbyist with all the information the non-specialist general reader will need to produce quality meats that would grace any dining occasion with friends and family. Readers will learn how to control meat acidity and remove excess moisture; select proper temperatures for fermenting, smoking and drying; both understand and exercise effective control over fermentation process; choose appropriate starter cultures and make both traditional and fast-fermented products; select and operate the proper equipment, safety measures, and more. Of special note is extensive section featuring fifty-one fermented sausage recipes. A superbly organized, unique, and highly recommended addition to personal and professional culinary collections, readers of "The Art Of Making Fermented Sausages" will also want to visit the Marianski website at www.wedlinydomowe.com which is dedicated to the "art and science" of smoking meats and sausages.